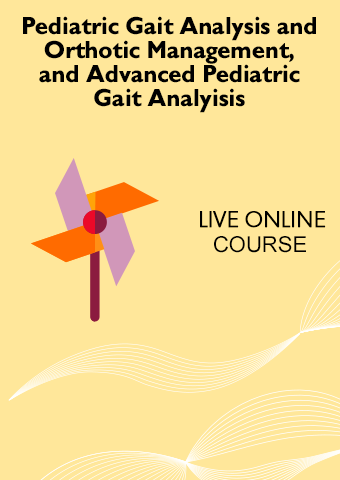 1 Day Advanced Pediatric Gait Analysis and Orthotic Management (OSKAR) Course
Join us for Advanced Pediatric Gait if you have attended Elaine Owens' OSKAR course before. The basic course is no longer accepting registrations.
The Advanced Pediatric Gait course is intended to build on your fundamental knowledge from Elaine Owen's Pediatric Gait Analysis and Orthotic Management course. (This course is a pre-requisite.) Advanced Pediatric Gait will provide an in depth analysis of "AFO footwear combination" design to optimize gait.  Participants will have an opportunity to discuss videos and live patient demonstrations and the surrounding clinical decision-making skills involved in gait analysis and orthotic design.  Elaine's algorithms will be extensively reviewed through video examples and small / large discussion groups.  Upon completion of the course, participants will be able to apply the principles directly into their working practice. 
LIVE DATES: January 9, 2021 or April 23, 2021 (Choose 1)
FACULTY:
Elaine Owen, MBE, MSc, SRP, MCSP. She is ESMAC trained in Clinical Gait Analysis. For over 20 years she has used a video vector gait laboratory at Bangor Child Development Centre, UK for gait analysis, and orthotic and physical therapy management of children and adults.  
AUDIENCE:
This course is intended primarily for pediatric physical therapists, orthotists, orthopedic consultants and pediatricians. It is also useful to those working with adults.
SUCCESSFUL COMPLETION:
Advanced Pediatric Gait will earn 6.5 contact hours. During the live portions of these courses, participants must record their attendance and complete an online evaluation. 
OBJECTIVES:
Upon completion of this course, participants will be able to: 
Describe kinematic analysis of the divisions of the gait cycle with equal emphasis on movements of the joints and movements of the segments relative to the vertical and horizontal
Review kinetic analysis of the divisions of the gait cycle and the interaction of kinematics with kinetics
Describe the kinematics, kinetics and muscle actions of typical standing, stepping and full gait cycles
Describe and Discuss the kinematics and kinetics of atypical gait patterns, deviations at segments and joints and categorization by segment deviation
Distinguish the assessments required to determine the optimum alignment of the sagittal angle of the ankle in an AFO and demonstrate use of a clinical algorithm
Distinguish and Discuss the biomechanics of a variety of AFO and footwear designs and the alignment, refinement and tuning of these designs to optimize gait
Demonstrate use of a clinical algorithm for designing, aligning and tuning AFO Footwear Combinations to determine optimum prescriptions for each gait pattern
Demonstrate use of a clinical algorithm for determining whether a dorsiflexion free AFO design is appropriate
Demonstrate use of a clinical algorithm for determining MTPJ free or MTPJ fixed AFO design
Integrate alignment and tuning concepts with patient case examples
Demonstrate static and dynamic alignment of AFO Footwear Combinations
Discuss the relevance of segment proportion to orthotic prescriptions
Describe the essential concepts of the Optimal Segmental Kinematics and Alignment approach to Rehabilitation (OSKAR)
Describe OSKAR functional gait training and motor learning programs for standing and walking with AFO Footwear Combinations
Demonstrate essential lower limb clinical assessments for gait analysis
Demonstrate use of digital video to perform sagittal and coronal gait analysis
(Please download brochure above, for the Advanced Pediatric Gait learning objectives.) 
CONTINUING EDUCATION CREDIT
Physical Therapy
This course has been approved by the Illinois Physical Therapy Board for 6.5 Contact Hours Approval #216-000069  
The Shirley Ryan AbilityLab is recognized by the New York State Education Department's State Board for Physical Therapy as an approved provider of physical therapy and physical therapist assistant continuing education. This four-day course has been approved for 6.5 contact hours. 
The following states require continuing education units or contact hours with no state specific approval: CT, IA, and WA.
Orthotists 
This program has approved for up to 6.5 credits through the American Board for Certification in O&P (ABC) for Orthotists, Orthotic Assistants, Orthotic Technicians, and Orthotic Fitters and Pedorthists. Full participation in this program is required to be eligible for the full amount of credits. 
Illinois Early Intervention
The Illinois Early Intervention Training Program has approved the Advanced course for 6.5 hours of EI credential credit in the area of 3.0 - Assessment, 1.0 - Atypical Development, 1.5 – Intervention, 1.0 - Typical Development
Collections
Orthotic Assistants Orthotic Fitters Orthotic Technicians Orthotists Pedorthists Physical Therapist Assistants Physical Therapists