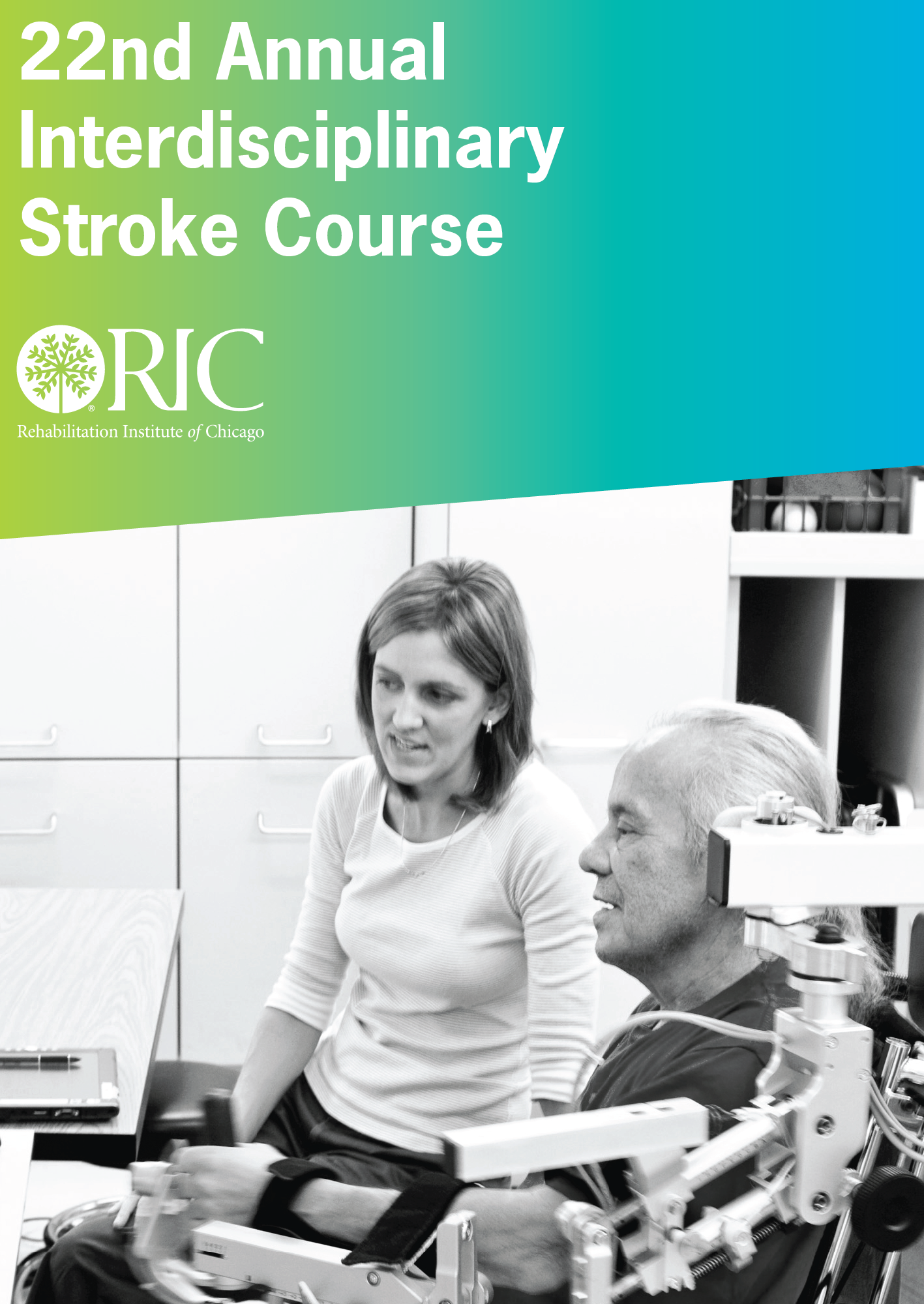 Z Z7/21-7/23: Stroke Rehabilitation: New Science and Classic Foundations, Chicago
***Update: The Friday Electrical Stimulation workshop has filled. There are still spots available on Saturday.*** 
Choose the weekday or weekend option that fits your schedule!
Session 1: Thursday, July 21 at 1 PM to Friday, July 22 at 5 PM (CST)
       or
Session 2: Friday, July 22 at 1 PM  to Saturday, July 23 at 4 PM (CST)
Rehabilitation Institute of Chicago
345 E. Superior Street - 16th Floor
Chicago, Illinois 60611

Course Description: Current research in neuroscience, motor learning and cognitive-communication function has added new dimensions to our understanding and management of stroke. This comprehensive blended course will sharpen the clinician's knowledge by focusing on the latest research and clinical advances that have impacted the rehabilitation of stroke. The keynote speaker will address the right treatment and timing for restoration of upper extremity function. Lectures on cognitive deficits and depression and a panel discussion of the family's adaptation after stroke  will also be presented.  Clinicians will gain knowledge through participation in selected self- study activities and workshops addressing gait training, upper extremity evaluation and treatment, or aphasia treatment interventions. Additional workshops will be held on music therapy and electrical stimulation for upper and lower extremity function.
Successful Completion: There will be approximately three hours of self-study activities (online modules, readings and assessments) that will be completed prior to coming to RIC to provide the foundational information and set the stage for the lectures and workshops to be presented at the live course. After registering for the course, you will be notified by email when online materials will be available. These activities, attending the one and half day program at RIC, signing the attendance sheets, and completing a course evaluation has to be completed to receive CEUs. 
 Objectives: Upon completion of this course, participants will be able to:
Apply

strategies to augment patient errors to facilitate motor learning.

Apply a frame work for clinical decision making using prognostic indicators and clinical assessments to aide in the selection of interventions for the upper extremity post stroke

List three components of aphasia treatment intensity and discuss implications for script training.

Summarize the cognitive ramifications of both focal stroke and diffuse small vessel ischemic changes.

Discuss the benefits and ways to use music in a therapy session.

Discuss the rationale for use of electrical stimulation (ES) and implement task specific activities to  improve gait or arm function post stroke.

Describe advances in personalized rehabilitation for recovery of arm and hand function post stroke.

Recognize common symptoms of depression after stroke related to damage of specific brain structures and as a reaction to illness.

Summarize the challenges and positive and negative experiences of caregiving for persons with stroke

.       
Audience: Physical Therapists, Physical Therapist Assistants, Occupational Therapists, Occupational Therapy Assistants, Speech-Language Pathologists, Physicians (not offering CME)
CONTINUING EDUCATION CREDIT
Physical Therapy
This two-day course has been approved by the Illinois Physical Therapy Board for 13 contact Hours (3.25 hours pre-work & 9.75 hours live). Approval #216-000069. 
Occupational Therapy
The Rehabilitation Institute of Chicago is an approved provider for the American Occupational Therapy Association to offer continuing education in occupational therapy. This intermediate level program awards occupational therapists 1.3 CEUs or 13 contact. The assignment of AOTA CEUs does not imply endorsement of specific course content, products, or clinical procedures by AOTA. 
Speech-Language Pathology


This course is offered for 1.3 CEUs (Intermediate level, Professional area).
HOTEL & PARKING INFORMATION

Rooms have been reserved at the Residence Inn Chicago Downtown / Magnificent Mile, 201 East Walton Place, Chicago, Illinois 60611 
The Residence Inn Chicago Downtown / Magnificent Mile is located 6 blocks from RIC. Please contact their reservations department at (312) 943-9800 or (800)331-3131 and ask for the RIC Annual Stroke course room block. The corporate room rate is $209.00 for the Studio with 1 king bed and 1 sofa bed (single or double occupancy) and $229.00 for the 1 bedroom 2 room suite with 1 king bed and 1 sofa bed with a separate bedroom plus the *17.4% tax. Parking at the Residence Inn is *$60.16.  The Residence Inn provides a complimentary breakfast to their guests each morning of their stay. The corporate room rate will be available until June 29, 2016 or until the group block is sold-out, whichever comes first.
 *The rates for parking and taxes are subject to change without advanced notice.
PARKING
If you live in the area and are driving daily to the Institute, there are several pay lots in the surrounding area. The average charge is approximately *$33.00 per day. Two options for early-bird parking are as follows:

Erie Ontario Garage
321 E. Erie
Chicago, Illinois
Enter garage from Erie or Ontario Street.
312/642-6062
Please call for the current early-bird rates.
Parking validation is not available to RIC Academy course participants.

680 N. Lake Shore Drive Parking Garage
680 N. Lake Shore Drive
Chicago, Illinois
Garage entrance is at the corner of Huron Street and Lake Shore Drive.
312/787-4304
Please call for the current early-bird rates.

Please be aware that street parking is metered and very limited.

* The rates for parking and taxes are subject to change without advanced notice.
** The valet parking at the Rehabilitation Institute of Chicago is not available to RIC Academy course participants.