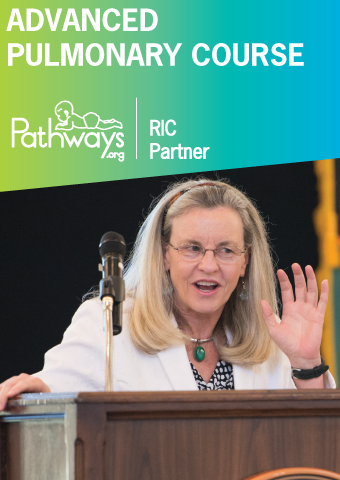 z Advanced Pulmonary Course
Instructor: Mary Massery, PT, DPT, DSc
Date: February 24-26, 2017

Location: Pathways.org Pediatric Clinic
2591 Compass Road – #100
Glenview, Illinois 60026

Capacity: Limit of 20 participants

Pre-requisite: Mary Massery's "IF YOU CAN'T BREATHE, YOU CAN'T FUNCTION"

Course Description: Following the framework established in the introductory pulmonary course, the 3 day advanced lab course will focus on applying evidence based concepts of multi-system integration to clinical situations with a special focus on the role of the cardiopulmonary system in the patient's rehabilitation program. Prior to the course, small groups of participants will be asked to do evaluations with patients who consent to be part of this learning experience, and they will present these cases to the group for feedback and discussions. Following the presentations, the group will do joint treatment sessions to assess whether the proposed intervention strategies were effective when applied to the patient as is, or whether they needed adjustments in planning or execution. The course will be interspersed with labs to refine handling techniques that were introduced in the basic course as well as labs working on the process of integrating the material into everyday clinical practice. The class is dynamic and interactive and will require the active participation of all clinicians. PT, OT and SLP therapists are encouraged to work in multi-disciplined groups to look at breathing from all 3 discipline's perspectives.
Continuing Education Credit: This course serves as continuing education for the American Occupational Therapy Association (AOTA) and the American Physical Therapy Association (APTA)