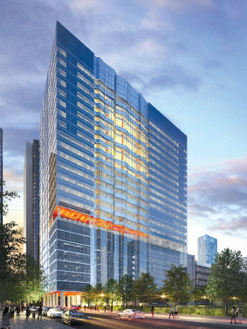 Z ACRM Pre-conference Event: Re-Imagining Rehabilitation Care and Research at AbilityLab, the Future of RIC
SPECIAL ACRM PRE-CONFERENCE EVENT AT RIC! 
Tuesday, November 1, 2016 from 1 - 4:30 pm 
Participants will learn about a new approach to clinical research and patient care that informed the design of the RIC's flagship hospital, scheduled to open in March 2017. By literally breaking down the walls between science and clinical care, RIC is making a $550 million investment to change the way research is conducted, accelerate clinical breakthroughs, and improve patient outcomes. Hear directly from the visionary researcher and clinical leaders who have been building this advanced knowledge translation concept over the past 7 years.
Join RIC's CEO and President, Dr. Joanne Smith, as she discusses how these innovations are being adopted in the new hospital, AbilityLab. Then tour the prototype on which AbilityLab was based.
Audience: Physicians and advance practice providers, including nurses, physician assistants, physical and occupational therapists and rehabilitation professionals. Researchers and Administrators. 
Agenda:
A Framework for Knowledge Translation in Rehabilitation - Dr. Jenni Moore, Clinical Practice Leader
Standardizing clinical outcomes assessment to optimize patient care - Dr. Chih-Hung Chang, Director
Implementing high-intensity stepping practice during inpatient rehabilitation post-stroke - Dr. George Hornby, Research Scientist and Dr. Elliot Roth, Medical Director
Redefining rehabilitation practice and research - Dr. Richard Lieber, Chief Scientific Officer
Overview of AbilityLab - Dr. Joanne Smith, CEO and President
Tour of RIC 9th floor Prototype
Continuing Education Credit will be offered. See ACRM site for more details.