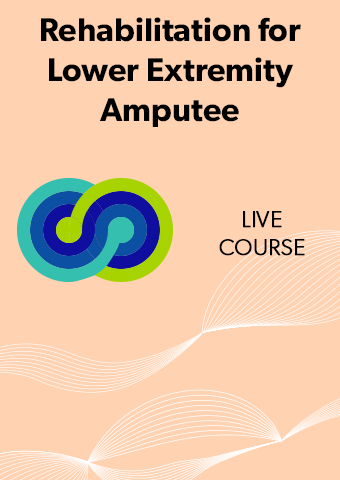 Z z5/4-5/6 Lower Extremity Amputation Rehabilitation
Thursday, May 4, 2017 7:45 AM - Saturday, May 6, 2017 1:00 PM (CST)
Join us at our new location: 
Shirley Ryan AbilityLab 
355 E. Erie Street - 10th Floor
Chicago, Illinois 60611
Click Here to Download the Course Brochure
Description: This two and a half-day blended course is specifically designed to provide updated information regarding rehabilitation of the client with the lower extremity amputation. Participants will review prosthetic prescription, current components, and functional training. Live models and patient cases will allow the practitioner to identify appropriate prosthetic components to meet the needs of the client.  The course will identify progression of activities beyond basic rehabilitation addressing core strengthening, balance, gait training and optimal outcomes.  Delivery of material will include lecture, live models and patient videos. 
Over 50% of the course will include teaching with use of live models and case studies. Final day will be 3.5 hours of  participatory workshop with live models.
*Note: this course assumes that you have a working knowledge of normal gait mechanics and is geared toward the rehabilitation therapy professional.  
Successful completion: Participants will complete an 1.5 hour on-demand webinar entitled, "Review of Surgical Procedures & Medical Management," and an assessment in advance of the course (earning 20.5 contact hours + 1.5 contact hours for a total of 22 hours.)  During the on-site portion of the course, participants must sign-in and complete an evaluation.  
Objectives: Upon completion of this course, participants will be able to:
Identify transtibial, transfemoral, and hip disarticulation prosthetic components
Describe gait mechanics of the individual with a lower extremity prosthesis
Develop treatment strategies to promote optimal outcomes in the early, intermediate and advanced stages of amputee care
Discuss research trends in patients with a lower extremity amputation.
Audience: Physical Therapists, Physical Therapist Assistants, Prosthetists, Prosthetic Assistants and Technicians, and Physicians (not offering CME). 
CONTINUING EDUCATION CREDIT
Physical Therapy
This course has been approved by the Illinois Physical Therapy Board for 22 Contact Hours+ (1.5 self-study and 20.5 Live)
Prosthetists 
This course has been approved for up to19.75 credits through the American Board for Certification (ABC) for Prosthetists, Prosthetic Assistants and Prosthetic Technicians.  Online course content has been approved for 1.5 credits. Full participation in this program is required to be eligible for the full amount of credits.
Athletic Training
The Rehabilitation Institute of Chicago BOC Approved Provider Number: P794 is approved by the Board of Certification, Inc. to provide continuing education to Athletic Trainers. This program is eligible for a maximum of 22.0 (1.5 Webinar +20.5 Live) Category A hours/CEUs. ATs should claim only those hours actually spent in the educational program. According to the education levels described by the PDC, the following continuing education course is considered to be Advanced Level
HOTEL & PARKING INFORMATION

Rooms have been reserved at the Residence Inn Chicago Downtown / Magnificent Mile, 201 East Walton Place, Chicago, Illinois. 60611
The Residence Inn Chicago Downtown / Magnificent Mile is located 8 blocks from the Shirley Ryan AbilityLab. Please contact their reservations department at (312) 943-9800 or (800) 331-3131 and ask for the RIC Amputee course room block or make your reservations using this online link Book your group rate for RIC Amputee Course Room Block  The corporate room rate is $179.00 for the Studio with 1 king bed and 1 sofa bed (single or double occupancy) and $199.00 for the 1 bedroom 2 room suite with 1 king bed and 1 sofa bed with a separate bedroom plus the *17.4% tax.  Parking at the Residence Inn is *$60.16.  The Residence Inn provides a complimentary breakfast to their guests each morning of their stay. The corporate room rate will be available until April 12, 2017 or until the group block is sold-out, whichever comes first.
The room block could reach its maximum before the above cut-off date. Rooms and rates revert to a space-available basis after the room block has reached its maximum or after the cut-off date.
* The rates for parking and taxes are subject to change without advanced notice.
PARKING - For directions and hospital parking information: Click Here. We offer validated daily parking at the hospital for $15.