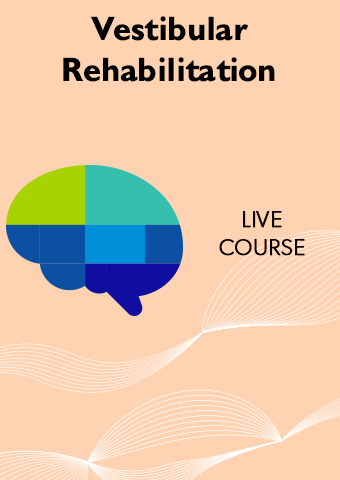 z 3/15-3/17 Vestibular Rehabilitation: Theory, Evidence and Practical Application
Learn how to manage tough vestibular cases!
2018 Course Description: Back by popular demand, this course will provide therapists with the foundational information needed to efficiently evaluate and effectively treat patients with peripheral and central vestibular disorders and with intermediate level clinical decision-making skills.  Emphasis will be placed on evidence based practice and understanding the physiologic rationale for therapeutic interventions.  This will enhance the clinician's ability to evaluate the appropriateness and effectiveness of therapeutic interventions for common vestibular disorders. The in-person portion of the course will include lectures, demonstrations with patient videotapes, and patient problem-solving sessions where you get a chance to apply new clinical skills.
Location: Shirley Ryan AbilityLab, 355 E Erie St., Chicago, IL 60611
Successful completion: Participants will complete 5 hours of self study activities in advance of this three day course (earning 21.5 contact hours + 5.0 contact hours.)  The self-study activities for the course will consist of readings and an exercise to help ensure a solid understanding of the fundamental concepts. During the in-person portion of the course, participants will build on this foundation and have a chance to apply their new skills through hands on activities and patient demonstrations.   
Course Objectives
Upon completion of this course, participants will be able to: 
Describe the normal anatomy and physiology of the vestibular system.

Discuss the pathophysiology of common vestibular disorders.

Demonstrate an examination and interpret the findings to determine the diagnosis of common 

vestibular disorders.

Develop, implement and progress an intervention program based on examination findings and knowledge of the vestibular system.
Audience: Physical Therapists, Physical Therapist Assistants, Occupational Therapists, Occupational Therapy Assistants
CONTINUING EDUCATION CREDIT
Physical Therapy
This course has been approved by the Illinois Physical Therapy Board for 26.5 Contact Hours (5.0 Self-Study, 21.5 Live Hours).
The Shirley Ryan AbilityLab is recognized by the New York State Education Department's State Board for Physical Therapy as an approved provider of physical therapy and physical therapist assistant continuing education. This three-day course has been approved for 26.50 Contact Hours (5.0 Hours Self-Study 21.5 Live).
Occupational Therapy

The Shirley Ryan AbilityLab is an approved provider for the American Occupational Therapy Association to offer continuing education in occupational therapy. This intermediate level program awards occupational therapists 2.175 CEUs or 21.75 contact hours + 5.0 Self study hours for a total of 26.75 contact hours. The assignment of AOTA CEUs does not imply endorsement of specific course content, products, or clinical procedures by AOTA. AOTA Classification Code: Category 2; Occupational Therapy Process
Athletic Training
The Shirley Ryan AbilityLab BOC Approved Provider Number: P794 is approved by the Board of Certification, Inc. to provide continuing education to Athletic Trainers. This program is eligible for a maximum of 21.75 live + 5 self study Category A hours/CEUs. ATs should claim only those hours actually spent in the educational program. According to the education levels described by the PDC, this continuing education course is considered to be Advanced Level.
 Here's what some past participants had to say: 
"I appreciate Janet Helminski's work and will try to attend any course she is delivering."
"Fantastic course. I would like Janet to teach me about everything PT related. She is brilliant, yet can communicate clearly which can be difficult for those who are so fantastic at what they do! Yeah, Janet!" 
 HOTEL & PARKING INFORMATION
Rooms have been reserved at the Hyatt Centric Chicago Magnificent Mile, 633 North St. Clair, Chicago, Illinois, 60611. 
The Hyatt Centric Chicago Magnificent Mile is located 1½  blocks from the Shirley Ryan AbilityLab. Please contact their reservation agent from 9:00 am until 5:00 pm at (888) 591-1234 and ask for the Shirley Ryan AbilityLab Vestibular Course room block or make your reservation online using this link: RoomReservations2018VestibularCourse. The corporate rate is $149.00 for a Deluxe Guestroom (single or double occupancy)plus *17.4% tax. The daily rate for parking at the Hyatt Chicago is *$61.00/day. The cut-off date for room reservations is February 28, 2018. The room block could reach its maximum before the above cut-off date. Rooms and rates revert to a space-available basis after the room block has reached its maximum or after the cut-off date (whichever comes first.) *The rates for parking and taxes are subject to change without advanced notice.
Directions and Parking Details for the Shirley Ryan AbilityLab can be found: here
Collections
Occupational Therapists Physical Therapists Athletic Trainers