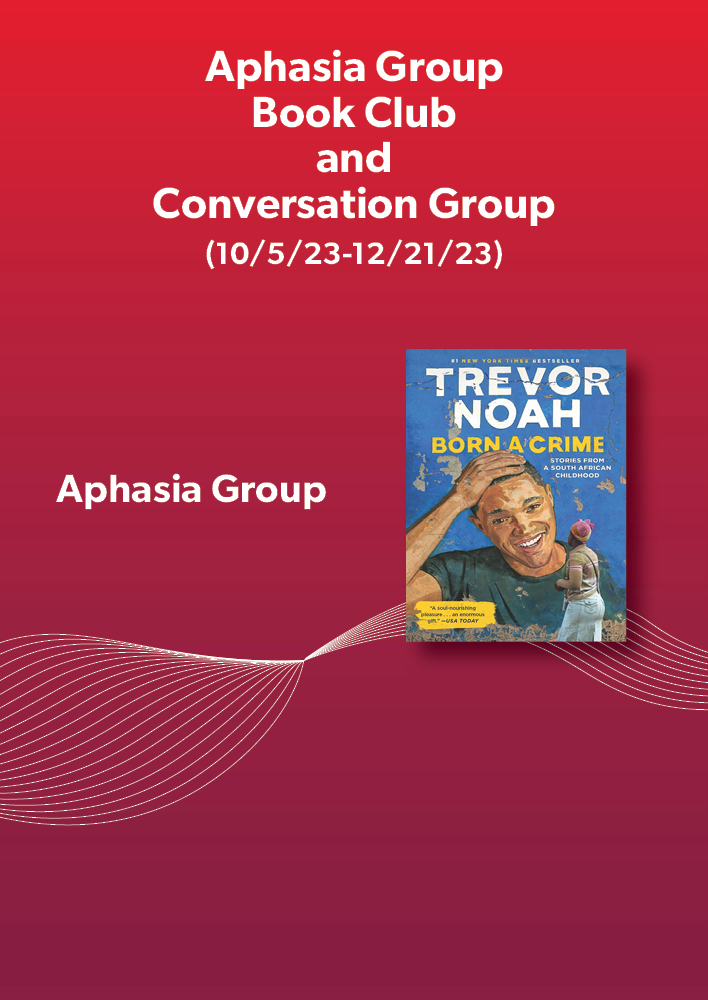 Online Aphasia Group Series (For People with Aphasia ONLY)
10/05/2023 – 12/21/2023
PLEASE MAKE SURE YOU HAVE REGISTERED HERE:
https://northwestern.az1.qualtrics.com/jfe/form/SV_80xJc7Iuu5ayPBk
IF YOU ARE INTERESTED IN SUPPORTING OUR APHASIA COMMUNITY: DONATE HERE
The Center for Aphasia Research and Treatment is offering an11-week online series from October 5 - December 21, 2023 for people who have aphasia. You can choose to attend Book Club, Conversation Group, or both! We will be reading Born a Crime Stories from a South African Childhood by Trevor Noah. 
The registration deadline is September 22, 2023.
Book Club: You will be assigned to one book club. 10AM-11:30AM or 12PM-1:30PM 
AND/OR
Conversation Group: You will be assigned to one conversation group. 12:30-1:30PM or 2:00-3:00PM
All groups are held on Thursdays
_________________________________________
**NOTE: You will order your own PAPERBACK book!
How to get your book: 
WE SUGGEST ORDERING ASAP (Click Link)
AMAZON or BARNES AND NOBLE
For more information, call the Center for Aphasia Research and Treatment at 312-238-6163 or Visit our website: HERE